Willard Scott, naked people, Paul McCartney, The Weather Channel, an obscure long-snapper, the Make-A-Wish Foundation and all-night typing.
You have your Super Bowl memories.
I have mine.
I went to six Super Bowls, enough to have nice memories and to remind me that the circus can get old.
These VI days, I'll recall each of them:
Super Bowl XXXIV, Atlanta, 2000:
This was the Super Bowl where the Weather Channel was more predominant than ESPN.
Atlanta was socked by an ice storm early in the week. Just four years after international media had been welcomed to the city for the Olympics and treated to nightmarish transportation issues, this time they found I-75/I-85 turned into a bobsled run.
It was not the best decade for PR for Atlanta.
It stands out to me for a couple of reasons. One, since I had my own transportation, I stayed in the suburbs and drove to the team press conferences. Thus I didn't find myself hopping onto a media shuttle downtown where the driver might well have still been trying to navigate his way to the Olympic rifle range.
My hotel was in the same neighborhood as the Weather Channel, which gave me what I thought was a cool column idea. I called the network to ask the weather prognosticators for their football prognostications. I did have one meteorologist coddle me on that.
On the Saturday before the game, I met with a family from north Alabama whose son was ill, and was part of the Make-A-Wish program. His favorite Titan was fullback Lorenzo Neal, and he wanted to meet Neal. So I tagged along as that happened, and remember that being a sweet column to write. I was really impressed by Neal's generosity of his time, and his kindness.
For the second Super Bowl in a row, we had the local connection and a regional team. I had covered all the Titans' home games, as well as the three playoffs. (That's me, just over No. 35 Lorenzo Neal's shoulder, watching the Music City Miracle from the sidelines).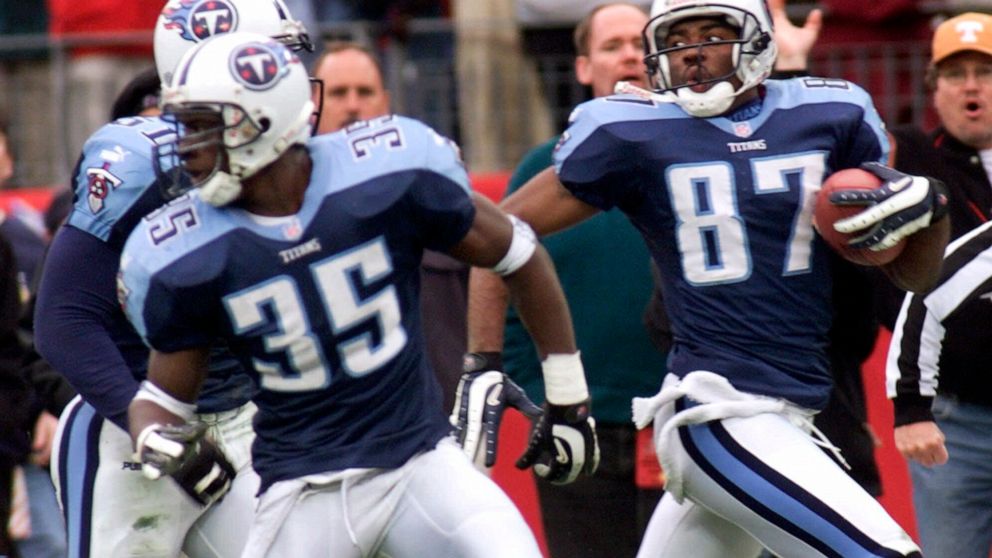 Joey Kent, from Johnson High and the University of Tennessee, was a Titans' receiver, and he consented to do a Super Bowl diary for us.
You'll remember that it was one of Joey's colleagues, Kevin Dyson, who caught the short pass from Steve McNair on the final play of the Super Bowl, then was tackled just shy of the goal line by the Rams' Mike Jones.
(When the Huntsville-Madison County Athletic Hall of Fame inexplicably inducted me in 2015 because of my typing, Joey was one of the other inductees. It offered a nice bit of symmetry for me, since Joey was one of the first local pro athletes with whom I built a relationship once I arrived here. But also a little uncomfortable. This guy caught dozens of passes from Peyton Manning. I know where the asdfgh keys are on a laptop.)
Joey and I talked a couple of years ago about that last play, and he told me a lot of the former Titans get together to watch the Super Bowl at Dyson's house. Every year, the famous play is replayed.
Every year, they think, maybe this will be the time they watch it and Dyson's arm extends just two feet farther.